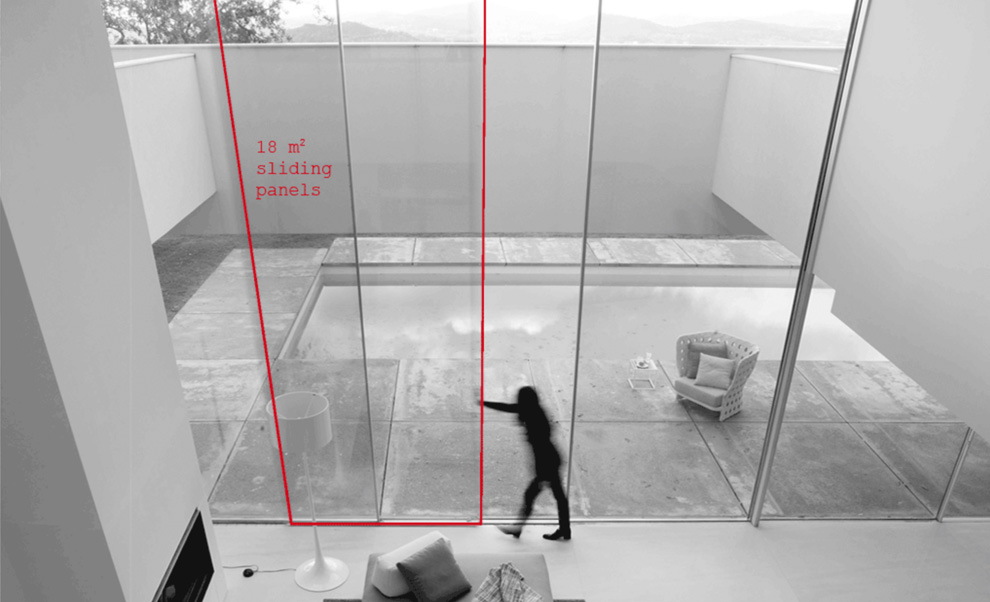 Architectural Solutions Nordic AB provides top quality made-to-measure windows, doors, skylights and custom solutions for projects of all sizes, from private villas to large commercial developments. Architectural Solutions offers the largest single sheet windows available – up to 18m2 and maximum  6 metres high – with either vertical or horizontal opening. Frames are minimal, produced in the highest quality aluminium, with a range of treatments and finishes available. We also offer made-to-order stainless steel, brass and copper profiles in a variety of finishes for more exclusive projects. All our products are measured, manufactured and fitted on site by a team of experts, ensuring the best possible fit and movement.
Our products
Architectural Solutions is the exclusive Scandinavian agent for the top quality Swiss window manufacturer PanoramAH! Specified by the world's leading architects, the PanoramAH! Series is a unique range of high-tech sliding aluminium frames that explores the characteristics of freestanding glass, offering the best possible technical and aesthetic solutions.  Glazed areas of maximum dimensions – up to 18m2 can be obtained  through the use of a recessed ultra-slim 20mm aluminium profile and structural binding polyamides. Unlike traditional systems, the glass is self-supporting.
AS Series
The AS Series of top hung windows produced by Architectural Solutions, offers the possibility of a vertically opening system on a large scale. Produced in aluminium, with structural binding polyamides, windows can be operated manually or by optional motorised elements for perfect movement.
Skylights
Architectural Solutions offers a wide range of hinged, fixed and sliding glass skylights with minimal profiles. From fire rated Flushglaze, to remote activated skylights with a tinted finish and rain sensors for automatic closure, we offer readymade and bespoke solutions to meet every requirement.
Custom solutions
Architectural Solutions prides itself on providing custom solutions.  Our team of experts, architects and engineers are on hand to help you create the perfect profile for even the most challenging projects. Working with you every step of the way, from developing the optimal window system, through to fitting and installation, we will endeavour to find the perfect match for you. Contact us for more details.
Contact us
General Enquiries
Telephone: +46 40 43 51 00
Sales: Torgny Fernegård
Telephone: +46 705 81 04 30
Address:
Kustvägen 3
294 74 Sölvesborg
Sweden